Mission control rooms rarely celebrate crash landings. But the collision of NASA's DART spacecraft with an asteroid was a resounding success.
At about 7:15 p.m. EDT on September 26, the spacecraft hurtled toward Dimorphos, a small asteroid moon orbiting a larger space rock called Didymos. The goal of the mission was to bring Dimorphos a little closer to its parent asteroid, shortening its 12-hour orbit around Didymos by several minutes.
the Double asteroid redirection testor DART, is the world's first attempt to change the motion of an asteroid by ramming it with a space probe (Serial number: 06/30/20). Neither Dimorphos nor Didymos pose a threat to Earth. But seeing how well the DART maneuver worked will reveal just how easy it is to alter an asteroid's trajectory, a strategy that could protect the planet if a large asteroid is ever discovered on a collision course with Earth.
"We don't know of any large asteroids that are considered to be a threat to Earth that are approaching any time in the next century," says DART team member Angela Stickle, a planetary scientist at Johns Hopkins University Applied Physics Laboratory in Laurel. . Md. "The reason we're doing something like DART is because there are asteroids that we haven't discovered yet."
Astronomers have detected nearly every kilometer-sized asteroid in the solar system that could wipe out civilization if they hit Earth, says Jessica Sunshine, a planetary scientist at the University of Maryland in College Park, who is also part of the DART team. . But when it comes to space rocks around 150 meters across, like Dimorphos, "we only know where 40 percent of them are," says Sunshine. "And that is something that, if it hit, would certainly wipe out a city."
Dimorphos is a safe asteroid for an experimental push, says Mark Boslough, a physicist at Los Alamos National Laboratory in New Mexico who has studied planetary protection but is not involved in DART. "It's not on a collision course" with Earth, he says, and DART "can't hit it hard enough to put it on a collision course." The DART spacecraft weighs only the weight of a couple of vending machines, while Dimorphos is believed to be almost as heavy as the Great Pyramid of Giza in Egypt.
After a 10-month journey, DART encountered Didymos and Dimorphos near their closest point to Earth, some 11 million kilometers away. Until the end of its journey, DART could only see the largest asteroid, Didymos. But about an hour before impact, DART saw Dimorphos in its field of view. Using its onboard camera, the spacecraft headed for the asteroid's small moon and slammed into it at about 6.1 kilometers per second, or nearly 14,000 miles per hour.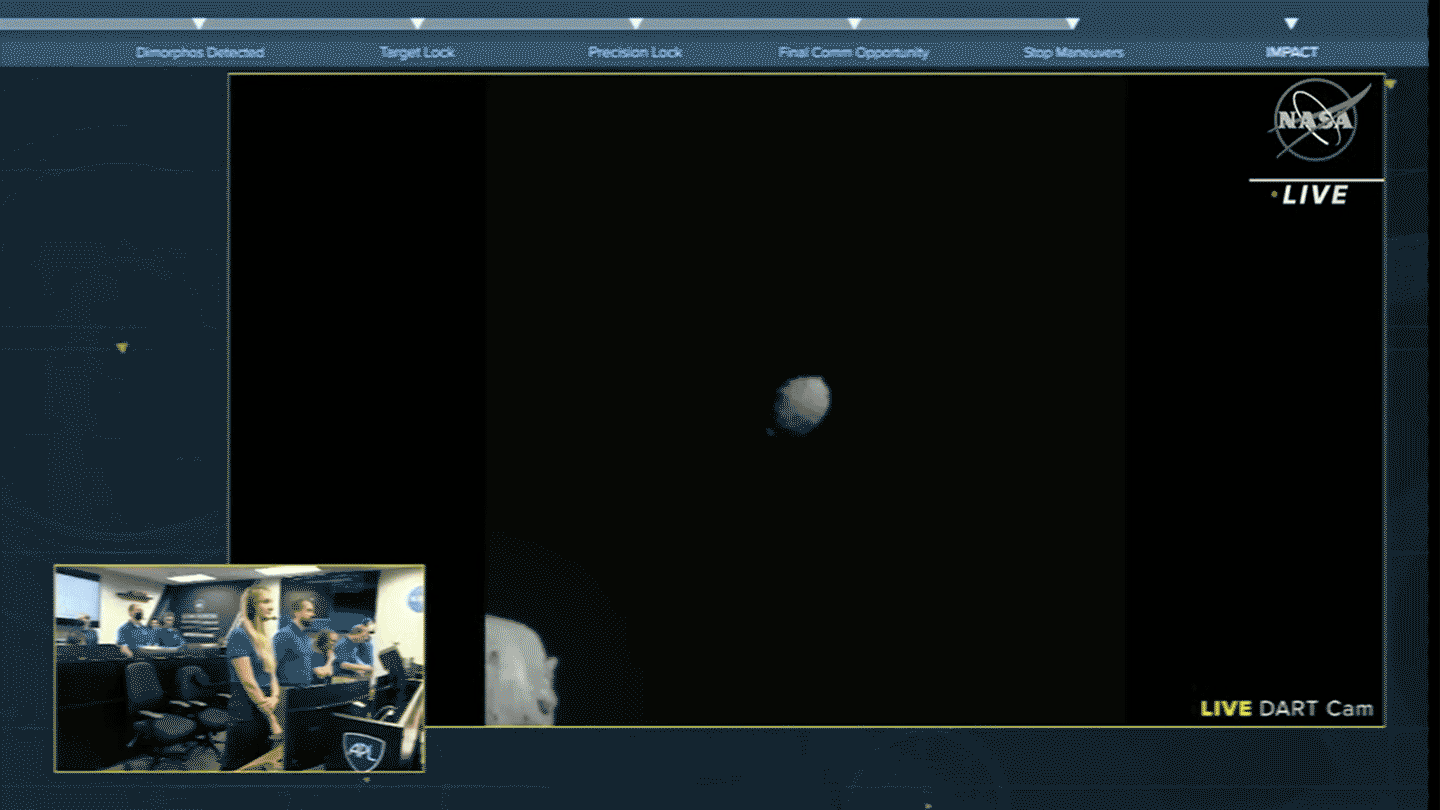 DART's camera feed blacked out after impact. But another nearby probe is expected to have caught the collision on camera. The Italian Light CubeSat for Asteroid Imaging traveled to Dimorphos aboard DART, but separated a couple of weeks before impact to observe the event from a safe distance. Their mission was to speed past Dimorphos about three minutes after the DART impact to take pictures of the crash site and the resulting plume of asteroid debris blasted into space. The probe is expected to send images of DART's disappearance back to Earth in a couple of days.
"I was absolutely elated, especially when we saw the camera zoom in and realized all the science we're going to learn," Pam Melroy, NASA deputy administrator, said after impact. "But the best part was seeing, at the end, that there was no doubt that there was going to be an impact, and seeing the team delighted with their success."
The DART impact is expected to push Dimorphos into a closer and shorter orbit around Didymos. Telescopes on Earth can time that orbit by looking at how the amount of light from the double asteroid system changes as Dimorphos passes in front of and behind Didymos.
"It's really a beautifully conceived experiment," says Boslough. In the coming weeks, dozens of telescopes on all continents will observe Dimorphos to see how much DART has changed its orbit. The Hubble and James Webb Space Telescopes can also obtain images.
"It will be really interesting to see what comes out," says Amy Mainzer, a planetary scientist at the University of Arizona in Tucson who is not involved in DART. "Asteroids have a way of surprising us," she says, because it's hard to know the precise chemical composition and internal structure of a space rock based on observations from Earth. Therefore, the post-impact motion of Dimorphos may not exactly match researchers' expectations.
The DART team will compare data on Dimorphos's new orbit with their computer simulations to see how close those models came to predicting the asteroid's actual behavior and adjust them accordingly. "If we can get our models to reproduce what actually happened, then you can use those models to [plan for] other scenarios that could appear in the future," such as the discovery of a true killer asteroid, says DART team member Wendy Caldwell, a mathematician and planetary scientist at Los Alamos National Laboratory.
"Whatever happens," he says, "we will get valuable information for the scientific community and for the planetary defense community."