Julius Nziza still vividly remembers the moment. Just before dawn on a chilly January morning in 2019, he and his team gently extricated a small brown bat from a net strung purposely to catch night fliers. A moment later, the researchers' screams and screams pierced through the dense fog blanketing Rwanda's Nyungwe National Park. The team had just seen a Hill's horseshoe bat (Rhinolophus hilli), which scientists had not seen for nearly four decades.
Nziza, a wildlife veterinarian at Gorilla Doctors in Musanze, Rwanda, and a self-styled "champion bat," had been searching for the critically endangered animal. r.hilli since 2013. For several years, Nziza and Paul Webala of Maasai Mara University in Narok, Kenya, with the help of Nyungwe rangers, surveyed the forest for places where bats might frequent. they did not find r. hilli, but it helped them narrow down where to keep looking.
In 2019, the team decided to focus on approximately four square kilometers in an elevated region of the forest where r.hilli it had last been seen in 1981. Accompanied by an international team of researchers, Nziza and Webala set out on a 10-day expedition in search of the elusive bat. It wasn't the rainy season yet, but the weather was already beginning to change. "It was very, very, very cold," recalls Nziza.
Every night from sunset to about midnight, the researchers set up nets along the trails, where bats are most likely to fly, and kept watch. Then, after a few hours of rest, they woke up early to check the traps again. It was so cold that bats could die if they were trapped too long.
At 4 a.m. on the fourth day, the researchers caught a bat with the distinctive horseshoe-shaped nose of all horseshoe bat species. But it looked slightly different from others they had captured. This one had darker fur and a pointed nose.
They all started yelling, "This is it!"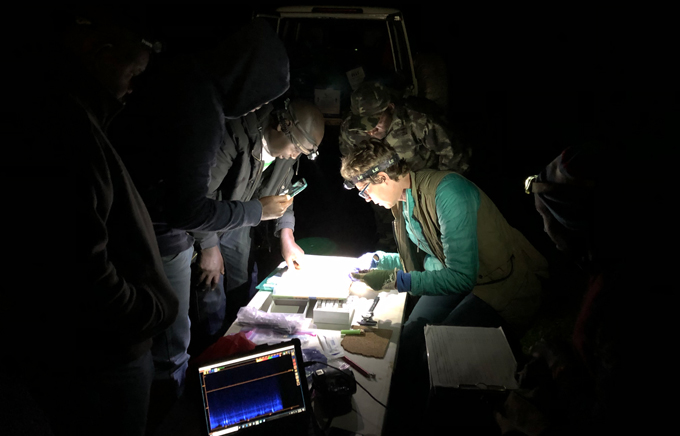 The researchers felt "nearly 99 percent certain" that they had found the missing bat. "We have a couple of beers at night," says Nziza. "It was worth celebrating." However, to be 100 percent sure, the team needed to compare their specimen with previous ones from r.hilli. Fortunately, there were two in museums in Europe.
That's because this is not the first time r.hilli it was lost, then found, to science. Victor van Cakenberghe, a retired taxonomist from the University of Antwerp in Belgium, rediscovered r.hilli 17 years after it was first seen in 1964. He says he still remembers finding the bat entangled in a mist net strung across a river. He kept the specimen and took it to a Belgian museum.
Nearly 40 years later, Nziza and her colleagues compared the measurements of their bat, which was released into the wild, with the preserved bat. Finally, it can be safely said that r.hilli was rediscovered againresearchers report March 11 in a preprint sent to Biodiversity Data Journal.
And, for the first time in history, scientists recorded r.hilliEcholocation call. Rangers can now use acoustic detectors to keep an eye, or rather, an ear, on the bat (Serial number: 10/23/20). In nine months, they have already captured r.hilli calls from eight different locations in the same small area.
The team published its data in the open access Global Biodiversity Information Facility in hopes of accelerating bat conservation efforts. Africa is home to more than 20 percent of the world's bats, but with a long-standing research focus on bats in Europe and the Americas, little is known about African bat species.
"It's something completely new," says Nziza. "That's why everyone is excited."